Dzibanche Maya Ruins Tour
Join us for an adventure at Dzibanche, the most spectacular Maya ruins site accessible from Costa Maya and find out why it is our best kept secret. Dzibanche is the only site in the region where you will be allowed to climb to the top of temples that will leave you in awe.
Dzibanche is in a location guarded from the tourist crowds by unspoiled jungle that creates a quiet and peaceful atmosphere disturbed only by an orchestra of howler monkeys, parrots, woodpeckers and owls.
Our Dzibanche adventure starts at the moment you jump into the van where your guide will keep you entertained with narrations about the Maya civilization and modern Maya culture, along with descriptions of the towns and villages en route to the ruins.
Tour details
Rate definitions
Adult US$80.00
Ages 13 years old and older
Child US$70.00
Ages 6 to 12 years old
Infant free!
Ages 5 years old or younger
What's included
Round transportation in air conditined vehicles
English speaking guide. (also available in Español and Français)
Tickets to the runis site
Guided Tour
Bottled water
Box lunch (turkey sandwich, fruit, juice or soda, bag of chips or granola bar)
Not included
Copyright fee of $5.00USD for the use of video cameras at the ruins site.
Gratuities for your guide and driver.
Tour duration
6.5 hours
Operating days and departure times
This tour operates daily with limited availability during Christmas Day and New Year.
There's only one departure per day per cruise ship and it's always one hour after the ship docks.
Difficulty level
Moderate
This is a walking tour and includes walking on uneven grounds under the jungle. Climbing to the top of the temples is optional and could be demanding physically. Climbing isn't recommended for anyone who is affected by acrophibia (fear of heights).
This tour isn't suitable for anyone with difficulties to walk and it's NOT wheelchair or scotter accesible.
Policies
A deposit of $15.00USD per person is required at booking to confirm spaces for this tour.
Balance payment will be due in cash (US Dollars or MX Pesos) at at check-in.
Optionally you can pay the total of your reservation at the moment of booking if you don't want to deal with balance payment when you arrive.
All payments received towards your reservation are fully refundable if for any reason your cruise ship doesn't call port in Costa Maya at all.
Cancellation policy is 48 hours before the tour.
This tour is better appreciated by children ages 6 years old and older.
Infants can participate in this tour only if it's reserved as a private tour.
Important Notice: Cruise ship must stay in port for a minumum of 9 (nine) hours to participate in this tour.
There's only one departure per day per cruise ship and due to the travel time required, this tour must depart right on time. Latecomers can be accommodated in the next available tour alternative.
Tour meeting point
This tour departs from The Native Choice Kiosk a few steps outside the Costa Maya Port. Email confirmation will include easy to follow directions, contact info and a map.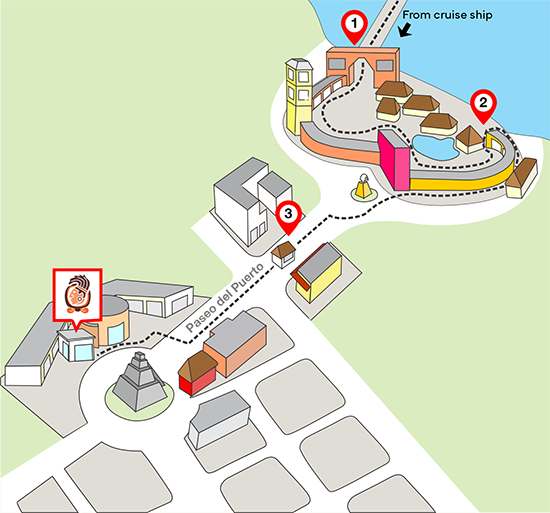 In Costa Maya the port is privately owned and controlled by the cruise lines. Local companies don't have access to pick up guests nor have representatives there.
Services and excursions available at the port are sponsored by your cruise line, if you plan to use any local service your must expect to leave the port to find your service provider.
Tour timetable
2hrs 10 min
Travel time from Costa Maya to Dzibanche with a possible 10 minute rest stop at Bacalar
10 min
Rest stop at the service area
1 hr 50 min
Guided tour of the ruins
10 min
Rest stop at service area
2hrs 10 min
Travel time from Dzibanche to Costa Maya
Recommendations
Wear comfortable walking or tennis shoes.
A hat and sunblock lotion.
Bring a little cash just in case.
Dzibanche Ruins Tour Details
This tour departs from The Native Choice Kiosk a few steps from the port entrance, check tour meeting point for details.
The ride from Costa Maya to Dzibanche Ruins takes two hours, with a possible rest stop at Bacalar town for bathrooms, gas and for our guests to stretch legs.
The road is in good conditions most of the way, it then changes to a narrow rural road for the last 15 minutes before reaching the ruins.
As most sites in the region, Dzibanche is still under investigation and there are some areas restricted for the visitors as well as some temples that are still covered by the jungle.
Visitors are allowed to climb to the top of two temples at Dzibanche. When time allows the tour is extended to Kinich Nah to climb its acropolis.
This tour includes walking on uneven grounds and it isn't suitable for people with difficulties to walk.
There's a copyright fee of $5.00USD for the use of video cameras at archeological sites in Mexico, this fee isn't included in the tour price, it's paid at the site's entrance and applies only for video cameras. There's no fee for the use of smart phones, film or digital photo cameras even if they can take video.
Dzibanche is in the middle of the jungle and currently there aren't shops. Expect to find only clean bathrooms and a ticket center at the service area of the site.